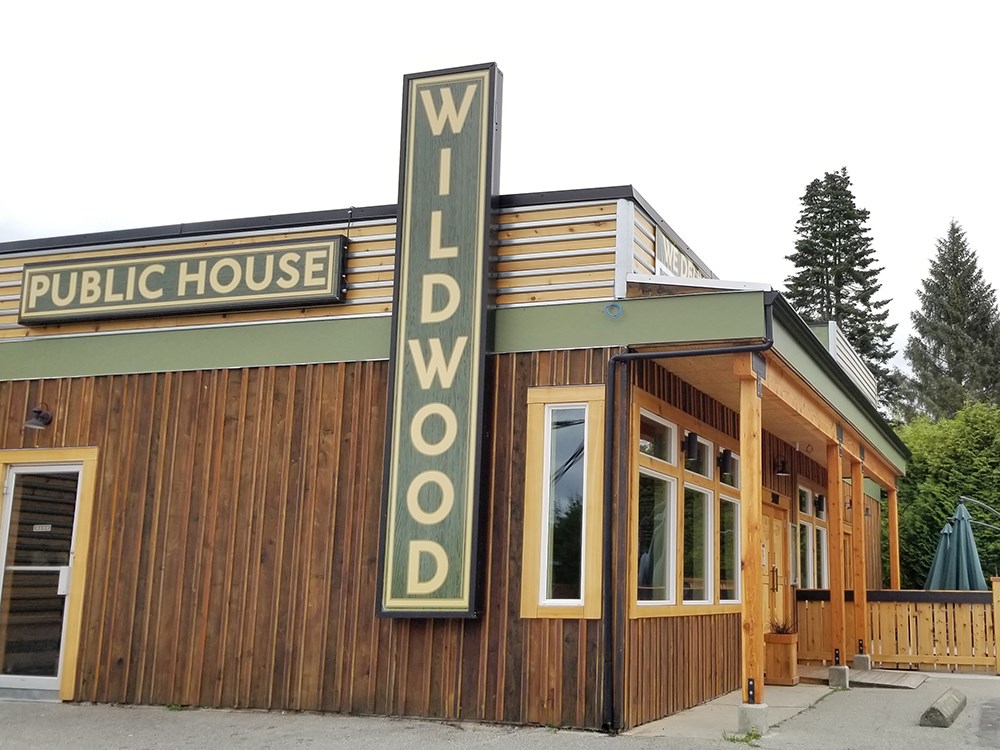 Votes in favor of permanently reducing parking at Wildwood Public House to provide outdoor space were unanimous
Councilors for the Town of Powell River have approved a development permit to facilitate the permanent expansion of a licensed outdoor patio at Wildwood Public House.
At the March 17 council meeting, councilors voted to amend the city's zoning bylaw to reduce the required number of off-street parking spaces from 22 to 15 to facilitate the patio expansion.
According to a staff report, the pub has been granted a temporary extended service area during the COVID-19 pandemic to expand the patio by an additional 30 seats. The pub has applied for a permanent structural change to the liquor license for the expanded patio space and is pursuing a relaxation of off-street parking requirements to facilitate the expansion, the staff report says.
At the meeting, Glen Hudson, who lives close to the pub, expressed concerns about its operation.
"We've been dealing with issues at the pub for 15 or 20 years," Hudson said. "Noise levels have increased. I sent a letter to the board the other day. I had to call the RCMP quite often to come in at different times of the night to sort out the problem.
Hudson said he went to the Town Hall bylaws control office about the noise bylaws and asked them to tell the pub owners that there was a noise bylaw for amplified music.
"Well, they start their bands at 8 p.m. and they sometimes go on until 2 a.m.," Hudson said.
He said the patio had big speakers and he was directly affected.
"The sound is coming right across the street, and it's boom, boom, boom," Hudson said. "At night, if there is a group, my wife and I put on earplugs. We are over 70 years old. I don't think it's a good idea to go to sleep with earplugs on because if there's a problem you just don't hear it.
Hudson said her driveway was blocked by pub patrons. He put on cones but they were removed, he added. There were also men and women who urinated in her yard, according to Hudson.
By-law covers noise, councilor says
Councilor Rob Southcott said the noise is definitely covered by a municipal by-law and it is true that it takes at least two complainants to get action on it.
"I would be surprised if you couldn't find someone else to complain if that was the case," Southcott said.
Hudson said his neighbor also complained.
Southcott said council was considering the permanent patio expansion, not noise concerns.
"The license has already been granted but it has nothing to do directly with the noise," Southcott said. "It's about reducing the number of parking spaces. Perhaps your concerns need to be reconsidered. I suggest that you return to the staff here to address your concerns that you are sharing with us tonight.
Councilor Maggie Hathaway said pub operators had been told the patio would be open no later than 10 p.m.
"I'm sure we could have a word with them through regulations regarding outside speakers and noise levels, and that they have to be inside by 10 p.m.," Hathaway said. . "They are committed to this and I hope they stick to their commitment."
Councilor George Doubt said his understanding of the recommendation presented to council is that it makes permanent the temporary arrangement that was put in place during COVID-19. He said the app does not reduce the number of parking spaces from what exists today, nor does it extend the patio to a larger area than before.
"It just makes it permanent," Doubt said. "All neighbors within the prescribed distance have been notified by mail. I think that's reasonable.
Doubt said he was prepared to support the recommendation. He said the noise by-law can be enforced at the pub if it is in violation, but he believes the changes to the patio will not be harmful and the pub is a valuable asset to have in the neighbourhood.
Council voted unanimously to permanently reduce parking to make way for the patio.
The board also voted in favor of a recommendation to approve the Wildwood Pub's Liquor and Cannabis Regulatory Branch structural change application to make the temporarily expanded service area an expanded licensed terrace in permanently with an increase in capacity from 15 to 45 people. The city also chose not to provide comment.