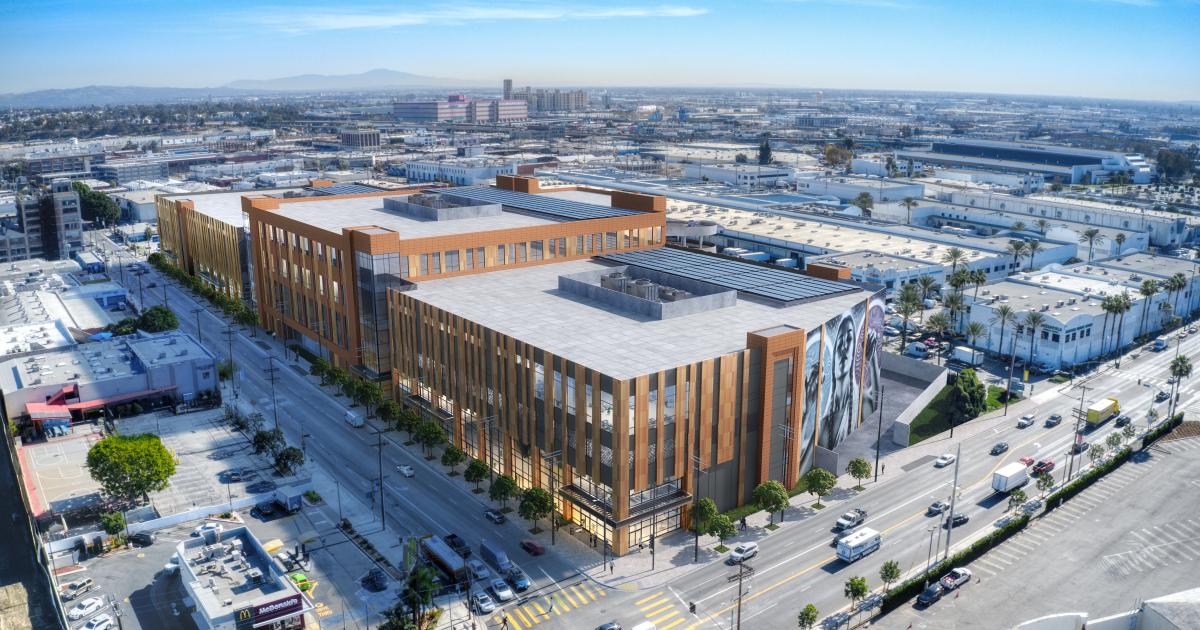 Prologis, best known for building logistics hubs, is looking to participate in the boom of the Los Angeles sound scene.
The San Francisco-based company announced today that it is filing an application with the LA Department of Planning to redevelop a nine-plus-acre property at 1716 E. 7th Street in the Arts District. The more than eight-acre site, which Prologis acquired last year for more than $90 million, has long been the headquarters of Greyhound's Los Angeles bus station. doggy style recently moved its operations to a bay in the Union Patsaouras Transit Plaza station .
The 8.3 acre property recently purchased by PrologisGoogle Maps
Prologis intends to raze the now vacant intercity bus station, paving the way for a new production studio campus at the southeast corner of 7th and Alameda streets. The proposed project, named Alameda Crossings, would include 10 sound stages and 291,000 square feet of office and support space. The plans also call for a parking garage with a capacity of 941 vehicles and 136 bicycles.
Relativity Architects designs the proposed project, which is presented in a conceptual rendering as a series of contemporary low-rise structures clad in rust-colored paneling and wrapped in new street trees and landscaping.
Similarly, Prologis also has an alternative regime in its authorization application which would allow the construction of a logistics facility for companies in the field of research and development. In this concept, the property would also have commercial uses on the ground floor.
"We are excited about the opportunity to redevelop what was the Greyhound Bus Terminal in the Los Angeles Arts District," Prologis Vice President Lauren Achtemeier said in a press release. "We will work with the city on our plans and engage with the community throughout the process. Prologis has been a longtime member of the Los Angeles business community. We own and operate 17 buildings in the City of Los Angeles , which creates more than 1,000 jobs and supports more than 60 customers.
The project, which has no announced timeline, is the third major studio complex planned along Alameda Street, which represents the western border of the Arts District. Atlas Capital Group has already secured approvals for a new campus with 11 sound stages and offices at the current site of the LA Times print shop, which has been dubbed 8th & Alameda Studios. A few blocks north, East End Capital earlier this year announced plans to build 16 sound stages and offices on a 15-acre property at Alameda and 6th Street.
Relativity Architects, the design firm attached to the project, is also working on similar production facilities in Boyle Heights and Glendale.