Charleston is a family destination. Most elementary school kids and up will enjoy the attractions that make the area unique, such as horse-drawn carriage rides, USS Yorktown tours, Fort Sumter tour – but add a toddler to the mix and these activities become less attractive.
That doesn't mean families with toddlers can't have a great time in the holy city. Whether you're playing tourist in your own town or visiting from afar, as a local, this is what I suggest for a great day trip for the adults and younger members of your family.
Breakfast (about 1 hour)
Charleston is known around the world for its delicious cuisine, especially southern staples. Start your day early with one of the following two restaurants that many local publications, including Lowcountry Parent, have voted the best in recent years, both located in Mount Pleasant.
Grilled Okra from Page at 302 Coleman Boulevard offers a giant beach chair to relax or take pictures while waiting for your table (no reservations accepted). It is often voted best brunch/breakfast. The menu at this sit-down restaurant is extensive and sure to offer something for every taste in your party, whether they have a sweet tooth or prefer a hearty, savory breakfast. Page's serves locally roasted King Bean coffee to start your busy day off right.
Voted Best Biscuit, Vicious cookie, located at 409 West Coleman Blvd., is to die for. While the masterfully created cookie dishes are the main attraction, they also offer some "not-so-vicious" dishes for those looking to start the day with power foods. Gluten-free cookies are also included on the a la carte menu, making it a great choice for families with dietary concerns. Order your meals at the counter to dine on site or take them out to enjoy on a picnic at the next destination, about a mile away.
Morning game (about 2 hours)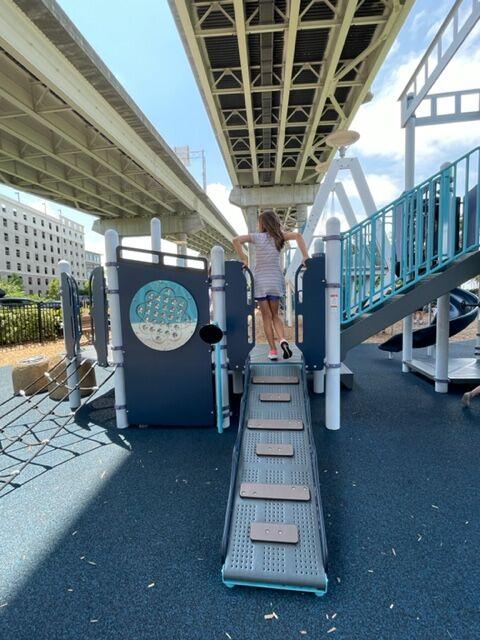 After your appetizing breakfast, give your little ones the chance to enjoy the nautical-themed playground under the iconic Arthur Ravenel Jr. Bridge at Mount Pleasant Memorial Waterfront Park. If it's not too hot, load the kids into the stroller to walk to the top of the bridge. The entire bridge spans 2.7 miles from Mount Pleasant to East Bay Street in downtown Charleston, however most people, especially those pushing a stroller, prefer to travel about a mile up at the top to take in views of the harbor and peninsula before turning around and returning to the parking lot ($0.50 per hour) at the foot of the bridge. This could be a great opportunity for a morning nap, where more alert toddlers will enjoy the boat and the people watching. If you haven't brought your own drinks and snacks to refuel after this activity, the park's River Watch Café provides everything you need, and the park also has free public restrooms.
Lowcountry Children's Museum (approx. 2 hours)
Park in the Visitor Center parking lot at 63 Mary Street ($2 an hour) and go to the Children's Museum of the Lowcountry at 25 Ann Street. Typical hours are Thursday-Saturday 9:30am-5pm (last admission 3:30pm) and Sunday 12:30pm-5pm. It's a good idea to start in the art room (turn right and continue to the end of the building after purchasing your tickets) so the kids' creations can dry while you explore the rest of the building. museum. Activities toddlers love include a special play area for kids 3 and under, an aquatic exploration room, a pirate ship and a pretend grocery store.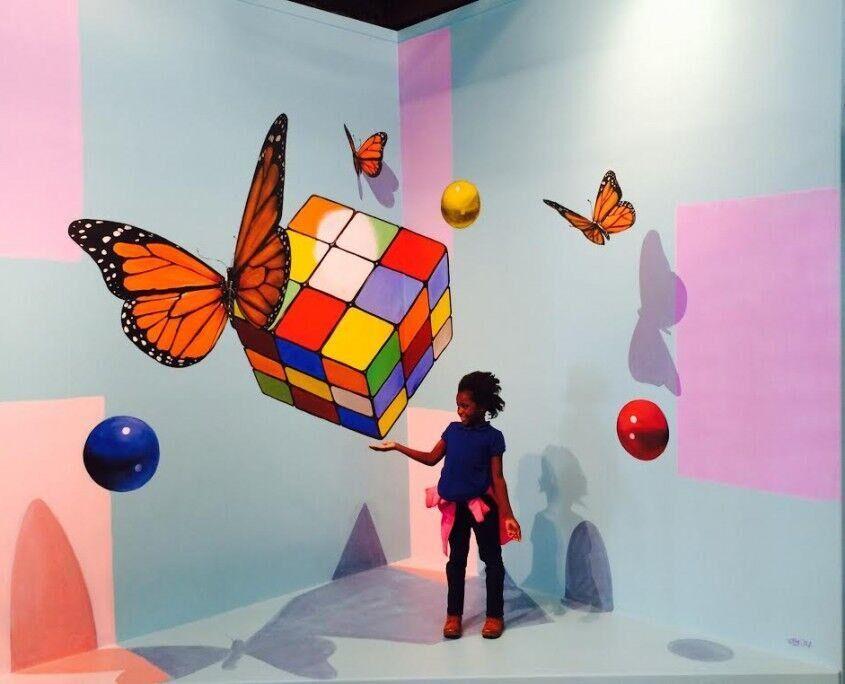 The museum hopes that all children will be able to take advantage of their offerings so that they are offering limited entry on the second and fourth Sundays of each month from 10 a.m. to 12 p.m. for children with special needs who do better in a less crowded environment and less stimulating. They also offer accessibility kits and an app specifically for children with autism. Families who can show proof of SNAP, EBT, or WIC membership receive $2 per person, and locals can check out a membership card for up to 6 people at the Charleston County Library.
Regular museum admission is free for children under 12 months, $13 for South Carolina residents, and $15 for out-of-state residents. Admission lets you in and out of the museum all day (so you can come back later if you wish!) explorecml.org/visit/plan-your-visit/
Lunch (1 hour or less)
Just around the corner from the Children's Museum on King Street is Nacho Royale by Juanita Greenberg, one of the most child-friendly and reasonably priced restaurants on the peninsula, with quick service and large portions to share. Be sure to use the restroom before you go as public restrooms are very hard to find in downtown Charleston (best while walking is to find restrooms at the bottom of the parking lots).
Nap (1-2 hours)
Get in the car again and enter Fleet Landing into your GPS. Park on the flat lot next to the restaurant which costs $10 per day or $5 for restaurant patrons. From there, put the kids in a stroller and leisurely cruise through the city center until they fall asleep. While they sleep, shop at the Charleston City Market or head the other way and stroll along East Bay Street to visit Rainbow Row, the Battery, and neighborhoods with beautiful historic homes.
Waterfront Park (30-45 minutes)
As the little ones start to wake up, head back to the car to put on some bathing suits, grab some towels, and let your little ones run around and splash around in the fountains at Waterfront Park on Vendee Street . (Unfortunately children will need to change in the car as there are no facilities in the area.)
If you're lucky, you might be able to sit on a swing in front of the harbor for a relaxing afternoon. This park is another great place for snacks if you brought them. On busy days, you might find Italian gelato vendors near the fountains, and there's a Belgian gelato shop on Rue Vendee that's sure to please if you need a sweet treat for hold you until your dinner reservation.
Dinner (1 hour)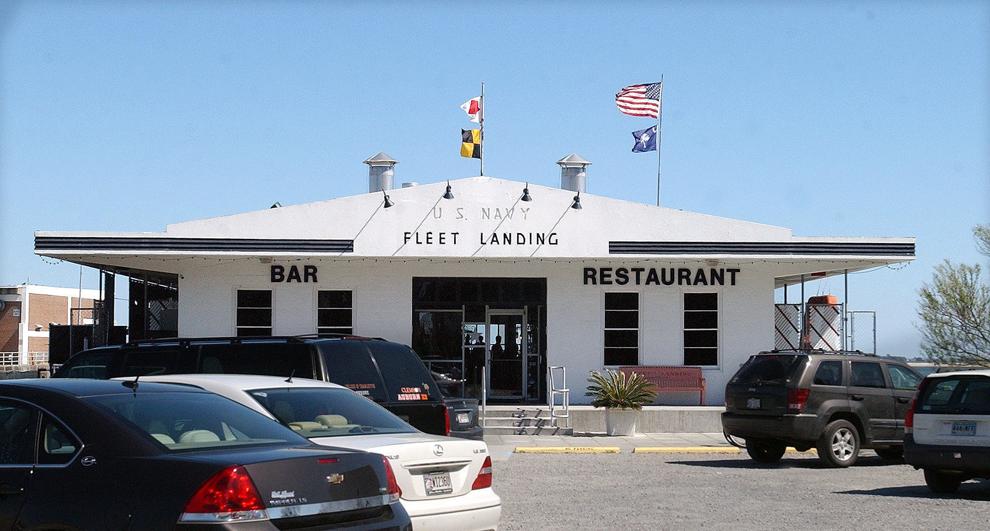 Just steps from Waterfront Park is Fleet landing, one of Charleston's favorite seafood restaurants, located in the old Navy Wharf. Make a reservation several weeks in advance and be sure to request a table outside to see the beautiful Charleston sunset and possibly spot dolphins! This restaurant is allergy-friendly and the kids' menu appeals to picky eaters and kids who love seafood.
Boat ride
If it's not too late or you're not exhausted yet, make the last round trip gondola out of Waterfront Park is a great way to end a long day of exploring with the little ones. The last round-trip taxi departs at 6:15 p.m. for $14 per person (ages 3 and under are free) and offers close-up views of the bridge, marinas, USS Yorktown, and often dolphins. charlestonwatertaxi.com